From September 20 to 27, the highly regarded 63rd Hannover Commercial Vehicle Show will be held in Germany. This world's largest commercial auto show attracted many Chinese commercial vehicle companies. Following the debut of the 62nd Hannover Commercial Vehicle Show in 2010, this year Xiamen Golden Dragon United Automotive Industry Co., Ltd. (hereinafter referred to as Daikin Dragon) will once again carry five new high-end passenger vehicles.

In addition, Daikin Dragon has already confirmed to participate in the Belgian Bus Show next year. This Chinese bus company has become a frequent visitor to the international auto show. In the frequent appearance of international auto show, Da Jinlong has gained a lot in overseas markets in recent years. Last year, the value of Grand Dragon Exports reached 2 billion yuan, of which Malta and Iran were particularly concerned. This year, the situation in the domestic and foreign markets has tightened. What is the export situation of Grand Dragon in the first half of the year? What is the market outlook in the second half of the year? In the coming period, how will the overseas strategy adapt?...... Recently, Xie Weiguo, the overseas marketing director of Daikin Dragon, accepted an exclusive interview with the reporter of "Commercial Automotive News" and answered questions of this series.

Strategic adjustment and strive to complete the goal of 2.4 billion yuan

Xie Weiguo disclosed that Dakin's 2012 annual export target was RMB 2.4 billion. In the first half of the year, the value of Grand Dragon Exports was 800 million yuan, a year-on-year decrease. From the perspective of a large market environment, it is difficult to complete the target of 2.4 billion yuan for the whole year. In the second half of the year, the export market is very variable, but the entire team will go all out and strive to complete the task.

Xie Weiguo said in an interview that he and the entire overseas team are not under pressure this year. He told the "Commercial Automotive News" reporter that this pressure comes from two aspects.

The first is external factors. This year was affected by the unfavorable economic conditions such as the European debt crisis and the slow recovery of the US economy. The demand for the international bus market was weak.

Followed by internal factors. "At present, the company's existing resources have been discovered almost. It can be said that we have reached a critical period of a new round of strategic adjustment." Xie Weiguo said.

Strategic adjustment focuses on talent and products. In terms of talent team building, Daikin Dragon is currently revamping the overseas marketing team, supplementing the existing strengths and accelerating the deployment of overseas locations to increase overseas marketing capabilities. In terms of product resources, the company is planning to absorb foreign advanced product technologies and manufacturing technologies to increase product competitiveness and create favorable conditions for the next round of rapid development.

Take the high-end route The three major markets have their own focuses

All along, Daikin Dragon insists on taking the high-end line overseas, and actively uses high-end products to expand its market and enhance its brand image. Xie Weiguo pointed out that commodity power is an important part of international competitiveness. Dajinlong will develop a series of high-end models in the future, and it will also consider ways to improve the overall technical level, foreign joint ventures and cooperation, and technology introduction.

According to Xie Weiguo, Daikin Dragon's overseas market has three main lines. Different strategies have been adopted in different markets: First, developed countries in Europe and America. In this market, Daikin Dragon relies on cost advantages to actively increase brand influence and use high-end models. The world-class brand really competes. In 2011, Grand Dragon received Malta's 15 million euro bill to achieve bulk export to the EU. This order was won with a number of multinational companies bidding and winning on the same stage.

The second is emerging markets, such as Russia, West Asia, South America and other countries and regions, which are the key areas for Chinese auto exports. Of course, as almost all Chinese auto companies regard these regions as strategically important overseas areas, the competition of Chinese autos in the region is already heating up. In these markets, there is more competition among domestic counterparts. Dajinlong's strategy is not to fight price wars and rely on quality to win.

The third is less developed countries. "These countries have underdeveloped economies, or frequent wars, poor customer reputations, and lack of political protection. Therefore, our strategy is to pick and choose those customers that are relatively secure and have a good reputation," said Xie Weiguo.

Balanced development: Export value increased by 1.3 billion yuan in four years

Xie Weiguo is a Hubei graduate and graduated from Jilin University of Technology. He once worked for Dongfeng Motor Company for many years. At the end of 2007, he was chosen to join in the grand invitation of the "Dr. In the past 4 years, he has witnessed the rapid growth of the export business of Daikin Dragon in recent years. In 2007, the value of Daikin Dragon's exports was only 700 million yuan; in 2011, the export value had increased to 2 billion yuan, an increase of 1.3 billion yuan in four years.

To analyze the success of these large Jinlong overseas trips, Xie Weiguo believes that there are several key words that cannot be ignored. In addition to the aforementioned "high-end routes," there are market-oriented and balanced developments. Different from some domestic counterparts who are good at playing political cards, Daikin Dragon explored the international market. From the very beginning, it was a market-oriented operation mode, and it also took the forefront of the industry in many regional markets. Daikin Dragon is the Chinese passenger car brand that entered the EU market earlier. As early as many years ago, Dajinlong Bus entered the markets of the United Kingdom, Italy, France and Spain. Currently, there are more than 1,000 Jinlong buses, tourist buses, suburban buses and school buses operating in the European continent.

In terms of the distribution of overseas markets, Daikin Dragon is characterized by a balanced development, without over-reliance on a particular market. "From 2008 to 2009, the export of Daikin-Dragon buses was not affected by the financial crisis, and the adverse market trend has risen. This is inseparable from the balanced advantages of our overseas markets. We did not put all our eggs in the same basket. Therefore, the risk was evaded." Xie Weiguo said.

Poor environment, test the strength of long-distance running in the enterprise

Xie Weiguo believes that the competition of Chinese bus companies in overseas markets is like participating in a middle-distance race. The traditional advantage of Chinese companies in overseas competition is cost, and this advantage will still exist in the coming period. At the same time, through a long period of accumulation and hard work, it is necessary to gradually increase the weak links of merchandise and brand power. The current large economic environment is not good, and it will test the strength of the company's middle-distance running.

Under the background of globalization, the Chinese bus export market is inseparable from the global economic situation. Xie Weiguo analyzed that the global economic situation will not be significantly improved in the past one or two years. The development of the automobile industry in BRICS countries such as China and India has slowed down, and it has been difficult for Chinese passenger car exports to perform well. If it can achieve a growth rate of around 10%, It is quite good. Although China's passenger car exports will not spur in general, it is still expected to achieve growth in local markets. Resources markets such as South America and Australia will have better performance. In addition, the demand for passenger cars in oil countries such as Russia and the Middle East is on the rise.

The global economic crisis has had a great impact on the export product category, leading to an ever-increasing proportion of bus exports. Xie Weiguo told the "Commercial Automotive News" reporter that currently there are a large number of light passengers exported from the sea lions series, but more than 30 large and medium-sized passenger vehicles contribute the most to the profits from Dajinlong exports, and the proportion of 20 to 29 CMB buses is relatively small. From the perspective of trends, the proportion of buses is getting higher and higher.

What makes Xie Weiguo most troublesome is that Chinese passenger cars often fight price wars overseas. "We have just developed a customer and will soon have a competitor to follow. If we reported $90,000, they would pay $80,000. The result of the price war is a loss. It is hoped that Chinese bus companies will compete rationally overseas and jointly maintain the brand image of Chinese passenger cars to achieve a win-win situation."

PD Toys plastic Co., Ltd is OEM & ODM manufacturer of inflatable products in the mainland of China with more 17 years of manufacturing experience. products ranges are Inflatable Toys, inflatable pools, inflatable pool floats, towable tubes, Air Furniture and Promotional Items etc. total have more than 1500 employees (4 factories) related to PVC inflatable products.

Operated under ISO 9001:2015 management system, We had passed factory Audit by Walmart, Taret, Disney ect, also passed all necessary certificates and testing such as ICTI, BSCI, SEMTA,Target FA, NBC Universal, FCCA, SGS, CVS Security, GSV, Disney FAMA ect. We have our own PVC raw materials manufacturing company, all the PVC we produced are compliance with European EN71, American ASTM standard and NON PHTHALATE (6P) standard.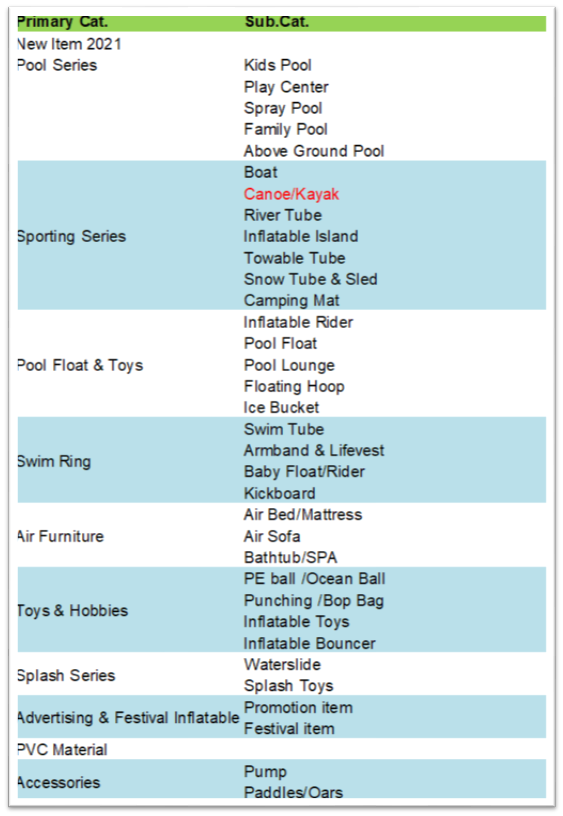 Inflatable Pool Lounge,Pool Float Inflatable,Floating Bed,Floating Chair

P&D Plastic Manufacture Co., Ltd , https://www.leadingproduction.com
July 13, 2021